Announced the 500 largest enterprises in Vietnam 2016
15/12/2016
Today, on 14.12.2016, JSC Vietnam Assessment Report (Vietnam Report) in cooperation with the official newspaper VietnamNet announced VNR 500 ranking – Top 500 enterprises in Vietnam 2016. This is 10th year VNR 500 ranking was officially announced to honor the business has achieved outstanding achievements in production and business activities in fiscal year 2015.
VNR 500 ranking is based on the results of research and independent evaluation of the model of Vietnam Report Fortune 500 and officially announced for the first time in 2007. The business does not have to pay any fee to be included in the VNR 500 ranking.
During 10 years of construction and development of the brand VNR 500, a model that connects large enterprises, these enterprises represent the entire economy of Vietnam was formed and expanded constantly over the years .
In addition to rankings announced 500 large enterprises in Vietnam, Vietnam Report rankings announced 500 large enterprises Privatization Vietnam in 2016.
Detailed information about the list and the ranking of firms posted on the program's website: www.vnr500.com.vn
Top 10 Ranking 500 enterprises Vietnam 2016
(Nguồn: www.vnr500.com.vn)
Top 10 Ranking 500 largest private enterprises in Vietnam 2016
(Nguồn: www.vnr500.com.vn)
In the framework of the VNR 500 ranking published in 2016, Vietnam Report also surveyed business community in Vietnam in VNR 500 ranking from 2007 to the present in order to sum up the assessment of the economic situation now business 2016 business outlook in 2017, and find out the problems and challenges for Vietnam in big business a decade with investment intentions of the economic pillars in the near future .
For evaluation of the company's large enterprise business situation first 10 months of 2016 compared to the same period of 2015, the majority of companies have identified business situation were increased in all areas, but 16% of businesses have responding revenue decreased 15% and business assessment tax profit decreased in the last period. 2016 was also rated as one of the enterprises faced many barriers to the challenges of growth from the economy and economic fluctuations, political world. Number of employees in existing businesses are also large numbers of businesses identified as a stable base with 47% of companies responding. In the first quarter of 2017, 60% of businesses that will keep the number of employees in the business situation of enterprises.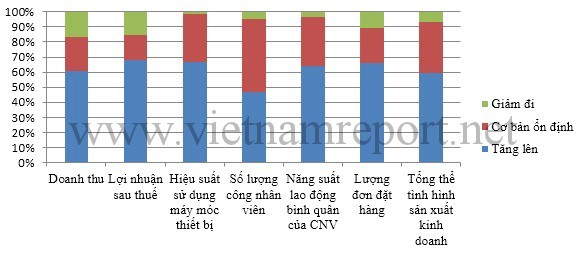 Hình 1: Đánh giá của DN về tình hình SXKD của DN 10 tháng đầu năm 2016 so với cùng kỳ năm 2015. Nguồn: Khảo sát các doanh nghiệp VNR500 do Vietnam Report thực hiện tháng 11/2016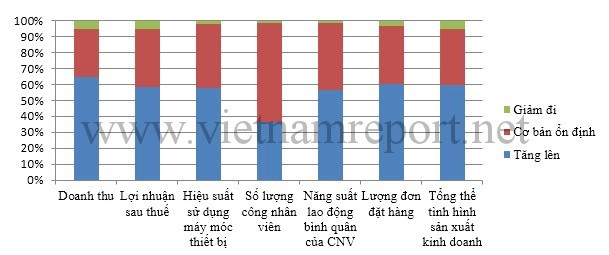 Hình 2: Dự báo của DN về tình hình SXKD của DN trong Quý I năm 2017 so với cùng kỳ năm 2016. Nguồn: Khảo sát các doanh nghiệp VNR500 do Vietnam Report thực hiện tháng 11/2016
The forecast for the business situation of enterprises in the first three months of 2017, companies were rated satisfactory for the revenue, profit and overall production and business situation in general and that the results will increase up or stable compared to the same period in 2016. When asked about the business plans of the companies in the second quarter of next year, 76% of businesses to respond will increase the scope of business, 19% plan to increase and only 5% feedback retain existing scale situation.
In addition, the trend of the economy in the coming period is the extensive integration and expand cooperation, so have many investors from Thailand, Japan, Korea chose to enter the market of Vietnam through acquisitions, mergers. The M & A (merger) and JV (joint venture) is slowly becoming the way in which companies seek to attract investment in the country and abroad. Nearly 25% of enterprises have implemented feedback on the process and are in merger talks, a joint venture in the last 3 years and 10% of businesses answered searched, and the exploration of the deal.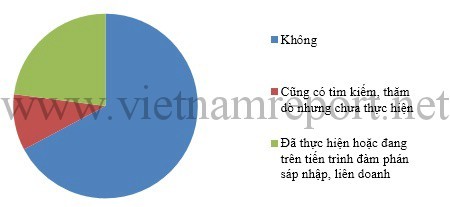 Hình 3: Nhận định của DN về việc thực hiện giao dịch mua bán sáp nhập (M&A) hoặc liên doanh (JV) trong vòng 3 năm qua. Nguồn: Khảo sát các doanh nghiệp VNR500 do Vietnam Report thực hiện tháng 11/2016
M & A is becoming a good channel for capital mobilization, an effective form of investment and is an important factor to promote business restructuring process as well as the economy. However, many companies intend to implement this capital mobilization channels are disturbed in the process of implementation and the biggest hurdle in this regard according to the businesses rated as difficulty in gathering the information source reliable on sale target audience. Next is the missing hard objects attractive target response rate is 24% of enterprises and responding to the policies, regulations related to this field arrays with 19% rate.
Currently, Vietnam has signed a number of Free Trade Agreements (FTAs) with countries, regions and will continue signing more FTAs ​​in the future. To meet the requirements of the integration period, the question is whether the big Vietnamese enterprises have sufficient internal resources to compete with foreign enterprises or not? In the VNR 500 surveyed enterprises, when evaluating the strengths and disadvantages of enterprises on the international market, mainly feedback on the face of the company is only normal to strong, nearly 60% of businesses rated their businesses strong and very strong level of management skills and a stable supply. However, only 25% rated the quality of goods / services of the company at that powerful and very strong 9%; up to 12% next DN DN identified marketing activities to a weak level. From here, shows the priority issues for large enterprises is to promote Vietnamese brand and improve productivity and quality, if you want to participate in the global playing field.

Hình 4: Nhận định của DN về thế mạnh và bất lợi khi bước vào cạnh tranh với các đối thủ trên thị trường quốc tế khi các Hiệp định tự do Thương mại trở nên có hiệu lực. Nguồn: Khảo sát các doanh nghiệp VNR500 do Vietnam Report thực hiện tháng 11/2016
In the field of investment, most of the big companies have decided to increase investment in business activities in Vietnam in the period 2017-2018, 32% of enterprises estimated investment will increase more than 50% for operations current business.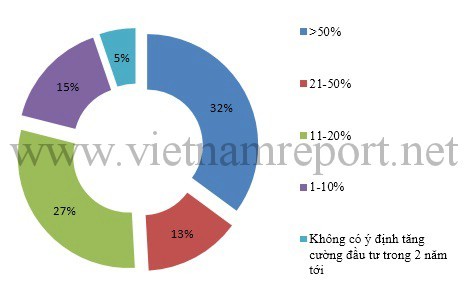 Hình 5: Phần trăm DN ước đoán sẽ tăng đầu tư cho hoạt động kinh doanh tại Việt Nam trong giai đoạn 2017-2018. Nguồn: Khảo sát các doanh nghiệp VNR500 do Vietnam Report thực hiện tháng 11/2016
In addition, survey respondents, nearly 45% of companies expressed intention to invest abroad in the next 5 years, especially businesses in the industry sector / manufacturing and service / commercial, this shows trends for the consumer market of large enterprises is increasing. With the VNR 500 enterprises, investment destinations most attractive of which are in US / NAFTA (North America 3 countries: Canada, USA, Mexico), and especially the developing Asian countries (India, China, Thailand Finland, Indonesia, Malaysia, ..)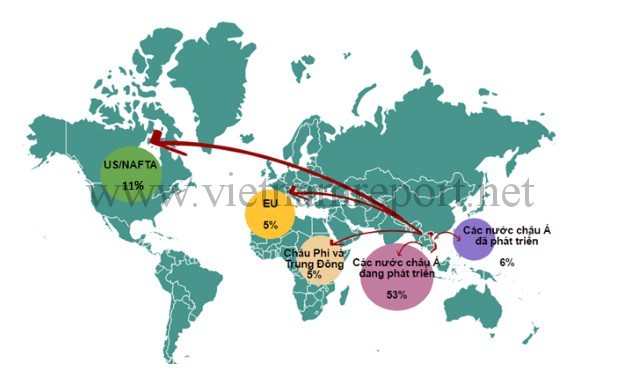 Hình 6: Khu vực DN lựa chọn đầu tư ra nước ngoài trong vòng 5 năm tới. Nguồn: Khảo sát các doanh nghiệp VNR500 do Vietnam Report thực hiện tháng 11/2016
The economy in 2017 was assessed with more optimistic outlook when the largest economy in the world is gradually overcoming the crisis, and the scheme restructuring the economy 2016-2020 period with great expectation created a new breakthrough, enterprises can fully VNR 500 proud of the results achieved and continue to focus on growth targets, further expansion in the near future. This is also the goal of the organizers to publish the chart VNR 500 2016. We hope that, with the recognition of the outstanding achievements of outstanding enterprises, enterprises VNR 500 in particular and Vietnamese business community Men are generally more stable will increasingly step forward on the road to business and arduous challenges ahead.
Announcement Ceremony VNR 500 ranking in 2016 is expected to be held on January 19, 2017 at Hanoi Daewoo Hotel. /.
Vietnam Report
Các tin liên quan
Sorry, no posts matched your criteria.